Web Counters
Website Visitors
Since
Nov 03, 2008

Visitors Today
May 19, 2013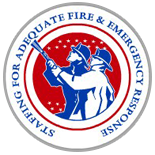 Chester County Firefighters Receive Funding to Recruit and Retain Volunteers
By HelpFightFire.com
March 14, 2008
On Friday, March 14th, 2008 the United States Department of Homeland Security through the Federal Emergency Management Agency awarded a grant to the Westwood Fire Company to assist Chester County volunteer fire companies recruit more personnel.

The grant, in the amount of $445,000, is to be used for recruitment and retention of firefighters.

Back in 2006, Westwood Fire Chief John Sly developed the project on a Countywide level to aid fire companies in the ongoing search for more volunteers. All of the 47 fire companies in Chester County participated in the program which was organized at the Chester County Fire Chief's Meetings. Data, statistics, call volume, budgetary information, and personnel rosters were obtained from each station to determine a needs assessment.

From the statistics compiled, there are currently 1,514 volunteer firefighters in Chester County. Fifteen years ago there were more than 1,800. Statewide, in the mid 1970's the estimated number was 300,000 firefighters, in the late 1990's the estimate was 70,000. Today, that number has dropped to between 50,000 and 60,000. Additionally, there are only 64 paid firefighters in Chester County, and no fire companies or departments rely solely on career personnel.

After months of preparation obtaining statistical information about each fire company in the County, Chief Sly wrote and submitted the application to FEMA's "SAFER" grant program last year. The SAFER (Staffing for Adequate Fire and Emergency Response) Grant program was created to provide funding directly to fire departments and volunteer firefighter interest organizations in order to help them increase the number of trained, "front-line" firefighters available in their communities.

According to Pennsylvania State Fire Commissioner Ed Mann, volunteer firefighters save approximately 6 billion dollars a year to Pennsylvania taxpayers.

In 2006, there were 16,439 fire and rescue emergencies in Chester County, and there were 33,995 medical emergencies. Most Ambulance services have been forced to pay crews during business hours due to declining volunteerism and additional calls. Currently, in Chester County, only the Westwood Fire Company Ambulance service remains all volunteer, however all fire companies in the County are still serviced by volunteer firefighters. Several have a paid driver or firefighter on duty during the day, but volunteers make up the bulk of the staff.

Funds from the grant will go towards paying for media campaigns in local newspapers, billboard advertisements, and a website where citizens can locate their nearest fire department and obtain information about how they can help.

Funding is also being provided to make presentations in high schools throughout the County to help recruit younger troops.

In order to meet state and National standards, training is required for volunteer firefighters. A major problem that continues is that in order for someone to get the required training, they are giving up their evenings and weekends, or losing wages by taking off of work. The grant provides more than $300,000 in funds to pay for lost wage reimbursement for new recruits joining their local fire company. This incentive provides hope that more people will sign up.

The main goal of this grant is to make the public aware of the services the firefighters provide to the citizens of Chester County, and spark interest in people who want to give back to the community.

This is the fifth largest grant ever awarded in the United States in the history of the grant program for recruitment and retention of volunteer firefighters.

An official Press Release will be forthcoming from the Westwood Fire Company and the Chester County Fire Chiefs Association. Any media inquires are requested to be directed to Chief John Sly at sly@westwoodfire.com.